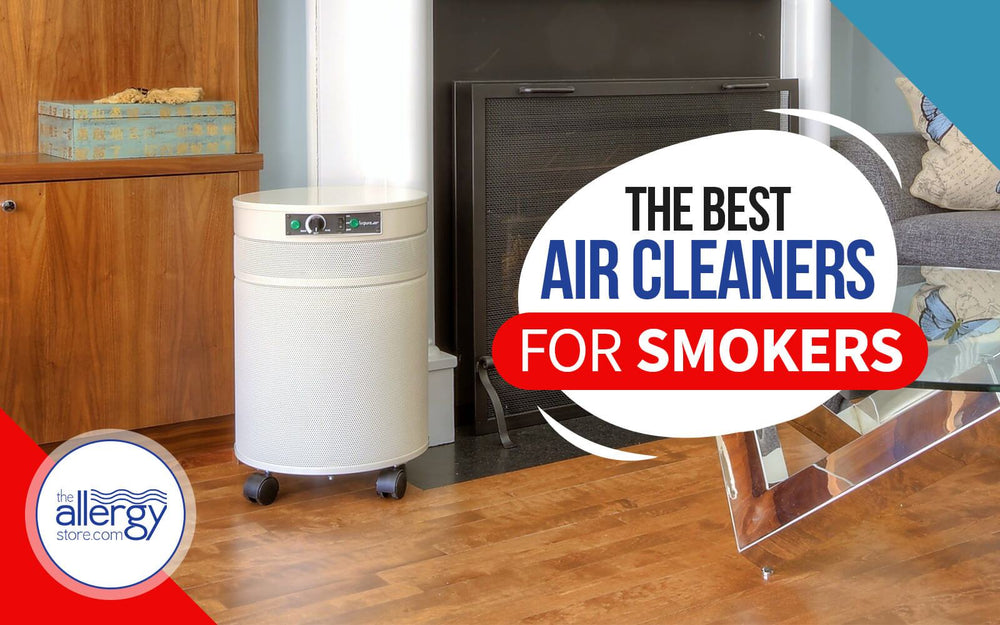 Most of our regular customers have respiratory problems. People with conditions such as allergies, asthma, or chronic bronchitis do not tend to be smokers.
In the process of becoming experts in cleaning the air for these people, we have learned quite a bit about cleaning the air for other situations. We have discovered some good air cleaners for smokers. 
For a person with allergies or asthma, the main concern is the removal of particles. Cleaning the air for smokers is more complicated. You need to remove the particles, but you also need to remove gasses and chemicals as well. If a line of air cleaners only removes particles, then you know this is not a line of air cleaners for smokers. 
AirPura T600 Air Purifier
This is our favorite air cleaners for smokers. The Airpura T600 was specifically designed to remove tobacco smoke, particles, and chemicals from the air.  
Tar Pre-filter. It is the only model that incorporates a special filter just for tar removal. This tar pre-filter absorbs the tar much as the filter on the end of the cigarette. 
Powerful Motor. The T600 has a powerful motor that can move up to 560 cubic feet of air per minute when running on the high setting. The more air you can move, the more air you can get through the filter. 
Deep Carbon Bed. You need carbon to absorb the chemicals in smoke. Harmful chemicals such as formaldehyde, toluene, benzene and other toxic, carcinogens are trapped in the 26 pounds of carbon in the filter. 
Like all AirPura air purifiers, the T600 has a powder-coated metal housing. This means the machine itself does not off-gas chemicals. Why select a machine that pollutes the air it is supposed to clean?
The HEPA filter is placed after the tar pre-filer and carbon bed it extends its life. Under normal operating situations, the HEPA filter only needs to be replaced every few years. 
Austin Air HealthMate Plus Air Cleaner
Austin Air is one of our favorites for an all-around HEPA air cleaner. They make a unit for gasses and chemicals, the Austin Air HealthMate Plus. The chemical and gas absorption properties of this filter make it the best suited Austin Air machine for removing smoke. 
Particle Filtration. Like all Austin Air machines, this one incorporates true HEPA filtration to remove 99.97% of particles as small as 0.3 microns. This is more than enough filtration to remove the particles found in tobacco smoke. It will also remove dust mite, mold, pet and other household allergens while it is cleaning the smoke particles!
Strong Air Moving Capability. The motor in the HealthMate plus is rated for 400 cubic feet of air per minute. This is not as strong as the AirPura models but certainly outperforms the IQAir and Alen Air models. The motor is warranted for 5 years and manufactured for long life. I have an Austin Air that is over 16 years old. 
Chemical and Gas Removal. The HealthMate plus incorporates 15 pounds of carbon made from coconut shells and zeolite. Zeolite is a volcanic mineral that is a natural odor and gas absorber. This carbon/zeolite is enhanced with potassium iodide. This potassium iodide enhances the ability to remove formaldehyde, toluene, ammonia and the other chemicals in tobacco smoke. 
The HealthMate Plus is offered in two sizes. We do not recommend the Junior size for any application that includes tobacco smoke and odor removal. The filter and motor are not suited for that task. However, the larger units are well suited for tobacco smoke from small to medium-sized rooms. 
A Word About Ozone
There are a number of machines that are marketed as "smoke eaters". These generally utilize ozone to get rid of the smoke and odors. Ozone is excellent for tobacco smoke and odor removal. Unfortunately, in the amounts necessary to achieve the objective, ozone is toxic. 
We do not sell any unit that generates ozone, as it should never be used around people with asthma, allergy, and other respiratory problems. 
Ozone is highly unstable and toxic at high concentrations. If you have an ozone generator, please do not use it in inhabited areas. If you blast with ozone, do it when the house is unoccupied and air out thoroughly afterward. 
Wishing you the best of health
The Allergy Store