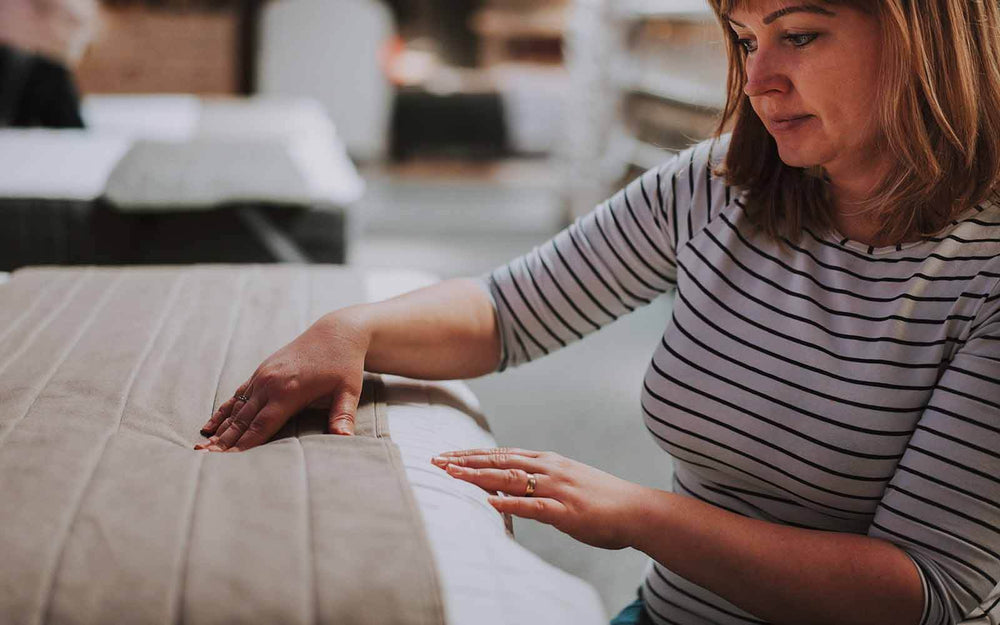 With so many fabrics available, how do you know which dust mite mattress protector is right for you? To cut through the confusion, we have created this dust mite mattress protector buying guide.
Let us help you determine the right dust mite cover for you.
Does it Need to be Waterproof?
The first question I ask is "Who will be using the bed?"  If the dust mite cover is going on the bed of a very young person, in addition to dust mite protection you are probably wanting something that gives waterproof protection to the mattress. 
In that instance, you want a fabric that is laminated to a waterproof barrier.  That way if there are bed wetting incidents, the mattress itself is protected.  We recommend the use of the AllergyCare Solutions mattress protector for this application.  It is a comfortable stretch knit polyester that is fused to a 1 mil thick urethane backing. 
The urethane membrane gives complete allergen protection as well as making the cover waterproof. It also has a unique, patent-pending tape closure that completely covers zipper end making them bed bug proof too!
It is also a pretty sturdy fabric, so if the kids are jumping on the bed or engaged in horseplay that you have specifically prohibited (and they are doing anyway) the cover is going to hang tough! 
The only time you have to be gentle with this fabric is when you launder it.
Because the membrane is fused to the fabric by the use of heat, if you subject the cover to very high heat the bond will be lost and the fabric and membrane will separate.  You really need to line dry or dry on the lowest setting of your dryer. 
If the dust mite cover is going on the mattress of a woman that is nearing or has reached menopause, then one of the most important attributes (next to dust mite protection) is that it be cool. 
In that instance, I recommend the AllergyCare 100% Cotton or the AllergCare Certified Organic Cotton.  These fabrics will not worsen night sweats or hot flashes.  It won't cure them, but it won't make things worse.  Those two specific instances aside, really any of the dust mite cover fabrics will do the job.  The next thing to consider is comfort.
What Kind of Sheets Do You Like?
And that is why the second question I usually ask people is, "Tell me about the sheets you use".  That is because you can tell a lot about the "feel" a person will find comfortable based on the the sheets you select.
For example, if you sleep on jersey or satin sheets, you like really smooth and silky feeling fabrics.  Cotton fibers might not be the best choice for you.  You will want the Pristine Luxury or AllergyCare Solutions cover fabrics. 
Both of these are all polyester and have a slick finish.  The Pristine Luxury is a micro weave. That means it is the weave of the fabric that gives you allergen protection.  The Bed Bug fabric is a polyester stretch knit that is fused to a 1 mil thick membrane (just like the Linen fabric). 
If you sleep on high thread count sheets, then you are an all cotton type of person.  In that instance I recommend the AllergyCare 100% Cotton or the  AllergyCare Organic Cotton. 
Both of these all cotton micro weaves will give you allergen protection and at the same time give you the soft cotton feel that you find in your sheets. 
Is Durability Important?
Another consideration is "How durable do you need it to be?"  Now, this might seem like a strange question.  You would think "Well of course I want it to be durable", but what is really at the heart of the matter is how frequently you are going to take the dust mite mattress cover on and off the bed and how often you plan on washing the cover. 
Under normal circumstances, you should be washing your sheets and other bed linens that are on top of the dust mite bed cover once a week.  In that case, barring any "accidents" like the cat throwing up, or someone spilling liquid on the bed the dust mite cover on the mattress is only going to be washed once or twice a year. 
Under those normal circumstances any of the fabrics we sell are going to stand up for years.  However, if you anticipate washing the cover frequently, or you are putting it on a futon or folding mattress or a sofabed that is going to be folded and unfolded over and over again then you want a sturdy fabric. 
In those instances you would pick the Pristine Luxury or the AllergyCare Solutions.  Because polyester is such a strong fiber, it is perfect for these applications.
So you see, picking a mattress protector cover fabric is a little like picking ice cream.  Just go through the questions in our dust mite cover buying guide and determine what is best for you.
Till next time
Cheryl
P.S. Allergy elimination is about eliminating the allergy-causing substance in your home the best you can. To learn more please click here to download your free copy of" You Can Do It! Allergy Free Living.