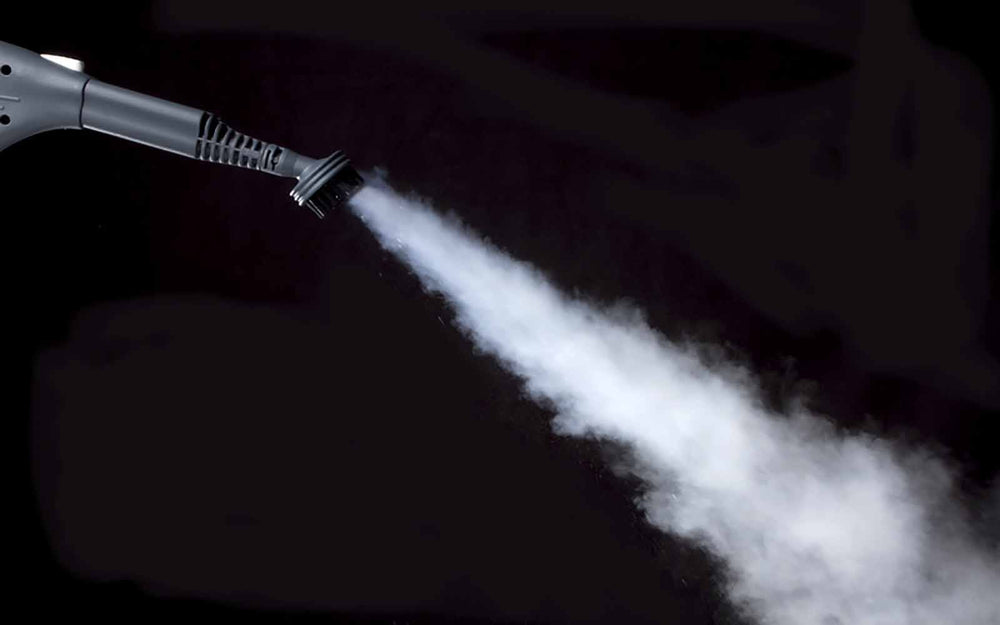 You may have had your carpets steam cleaned in the past. If you have ever had your car engine detailed, you know they use steam to clean the engine.
Cleaning with steam has many commercial applications, but have you ever thought about cleaning with steam at home?
Why Cleaning with Steam is Green
Most of the times when you have something to clean that is really grimy or greasy or exceptionally dirty you have to pretreat or soak it in a chemical solution.
Most of these chemicals are toxic. Almost all of them emit terrible fumes. Using these chemicals exposes your air and water supply to contamination.
However, when you are cleaning with steam, you are using the combination of moisture and high temperature to cut through grease, grime, and dirt. In most applications, you do not need to use any chemicals. The steam itself is sufficient to dissolve the dirt or grease.
Steam Kills Bacteria and Viruses
When you are cleaning with steam, you are not only cleaning what you can see but also you are cleaning what you cannot see. Steam kills bacteria and viruses on the surfaces you clean.
Because you are not using a chemical antimicrobial, you are not contributing to the problem of "super bugs" or antimicrobial resistant bacteria. In addition to bacteria and viruses, steam cleaning will kill mold spores as well.
Steam Kills Dust Mites and Bed Bugs
If you have had a bed bug infestation, cleaning with steam is one of the most powerful non-toxic weapons in your arsenal. Steam can get into all the little cracks and crevices of your headboard, footboard, and bed rails.
This makes it perfect for treating your bedroom furniture and mattresses for bed bugs. After the steam has dried, you can put on your zippered bed bug proof cover and rest easy knowing you are protected.
Steam will also kill dust mites. If you have bedding that cannot be washed, steam cleaning is better than dry cleaning. Both steam cleaning and dry cleaning will take care of surface soil, but dry cleaning will not kill dust mites. Steam cleaning will kill dust mites.
Steam cleaning may also be an alternative for your wool mattress pads and duvets that cannot be laundered or dry cleaned.
Steam Cleaning Household Surfaces
If you purchase a steam cleaner, look for a model that can clean more than just your floors. For example, the Vapamore MR100 Primo steam cleaner has attachments to clean your floors but it also has attachments to clean much more.
Included with the Vapamore Primo are nylon and metal brushes of different sizes and cloth bonnets to go over the brushes if you want gentler cleaning.
These brushes can be used on your BBQ grill and tile grout. They are great for getting into small cracks and crevices, especially in the bathroom and around kitchen faucets.
Also included is a squeegee you can add on to the clothes steaming attachment. This squeegee is perfect for cleaning glass tables, sliding glass doors, and windows. It will also allow you to clean your mirrors without streaks, lint, or chemical cleaners.
Use the floor cleaning attachment along with a microfiber cloth to steam clean your kitchen counters and bathroom counters. You will clean and sanitize and your counter surfaces will shine.
Steam cleaning is safe for natural and synthetic surfaces.
Of course, steam cleaners are known as floor cleaners for good reason. A steam cleaner with a floor attachment and a microfiber cloth can make tile, laminate, vinyl, and wood floors look brand new.
Almost any surface in your home can be cleaned with the steam cleaning process, if you have the right steam cleaner. Steam cleaning has so many benefits it's hard to find a reason not to own one.