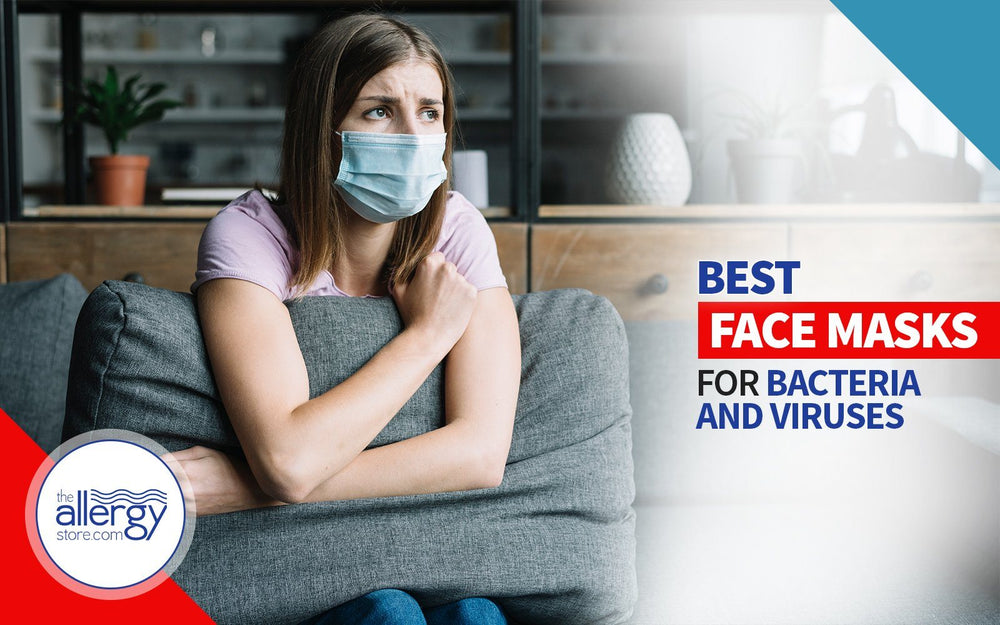 Every time there is a disease outbreak, we get questions about masks. Which of our mask is the best mask to protect against bacteria and virus?
For those with chronic illness, wearing a face mask can be especially important. Many of our clients struggle with a suppressed or weakened immune system due to their illness or medication, making them more vulnerable to contracting the flu or infectious illness. 
Most dust and pollen masks are great for stopping dust mites, mold spores, and pollens. In the world of microscopic items, these are pretty large. But bacteria and viruses are very small.
Regular dust and pollen masks should not be used for protection again bacteria and viruses. The best mask for bacteria and virus protection is an N95 or N100. 
Bacteria and Virus Mask Differences
The term "N95" and "N100" refers to a standard established by the National Institute for Occupational Safety and Health (NIOSH). This is a subset of the US Center for Disease Control. The standards refer to protection for the wearer of the mask and not the people around the wearer. By contrast, a "surgical" mask simply protects the patient from aerosol contamination from a healthcare worker and has a much lower standard.

Oil Resistance. N95 and N100 masks are not resistant to oil. These means they will not protect against particles suspended or mixed with an oil-based substance. For example, they would not protect against the spray from oil-based paint.

Particle Protection. N95 masks protect against 95% of airborne particles. N99 masks protect against 99% of airborne particles. The efficiency doesn't refer to the particle size, it refers to the amount of leakage.
So the N95 mask has slightly more leakage than the N99 mask. The testing is done with 200 mg of sodium chloride, as described in this CDC publication. The 3M N100 respirator has 99.97% leakage and provides the highest level of protection, virtually leak-proof.
Mask Characteristics
Cambridge Mask Pro Series - Featuring advanced new N95 Triple Filter System. Mask Pro is the premier, reusable, designer respirator mask. 
Cambridge Pro mask is used for protection from airborne particles such as PM 0.3, PM 2.5, PM 10, dust, allergens, post-combustion particles, germs, shavings, biologics, odors, scents, mold, mold spores, particles in wildfire smoke, volcanic particulate pollution, and other airborne contaminants.
The PRO Mask Triple Filter System
The first layer of the filter system catches larger pollution particles such as dust and PM10. It's then backed up by the Three-Ply Micro Particulate which stops nearly 100% of smaller particulate matter such as PM2.5 and PM0.3.
The inner filtration layer is made from 100% pure activated carbon cloth, originally developed by the UK Ministry of Defence for chemical, biological, and nuclear warfare protection.
The carbon filter is treated with silver to ensure 99% of harmful pathogens are removed and killed.
N95 Bird Flu - These masks fit over the ears and cover the nose and mouth. Before donning the mask, you create a pocket, don the mask, and then adjust.
The N95 Alpha Mask does not have an exhalation valve. It is light-weight and disposable. This mask has been used also known as the "Bird Flu" mask the "Swine Flu" mask the "H1N1" mask and the "SARS" mask.
As you can tell from its many names, this mask has been used for protection from a variety of masks. NIOSH does not provide a product life guideline. The N95 Alpha Bird Flu Mask may be worn until damaged by liquid or soil. 
3M N100 Mask - The 3M N100 mask contains an exhale valve which reduces the amount of moisture that can collect under the mask. This makes is well suited for working in hot or humid environments. Like the N95 and Vogmask, NIOSH does not provide product lifetime guidelines for these masks but suggests that they are discarded when they have reached the capacity of 200 mg.

The best protection from airborne illnesses such as those caused by bacteria, influenza virus and other viruses is to avoid contact. The disease is also spread by contact with contaminated objects or body fluids. No mask will protect you from these contaminants.
Pollen and Dust Face Masks
Protect yourself from airborne dust, pollen, and other allergens and airborne contaminants with the KN95 Protective Face Mask.  
Suitable for adults' daily travel protection.  Ideal for daily use at home and at work, travel, or trips to the supermarket and gym, the masks help prevent the spread of germs and protects you from airborne particles and allergens.
While not suitable for protection against biological contamination, the QMask and Mu2 Sport Mask are great for bike riding, housework, or other applications where the main contaminants are dust, molds, and pollens.
Air Purification
If you are looking for an air purifier, the Austin Air Allergy Machine or Bedroom Machine is the only air cleaner on the market that uses HEGA (High-Efficiency Gas Absorption) filtration.
HEGA filtration was first developed for the military as a defense against chemical warfare. It also has anti-microbial properties that kill microorganisms or stops their growth.
Austin Air took that technology added a true medical HEPA filter and created the Allergy and Bedroom Machines. These air cleaners are very effective in removing dirt, dust, pollen, mold spores, and other allergens as well as smoke, chemical fumes, smog, and noxious gases.
The Allergy Machine and the Bedroom Machine is available only in the regular size.
Like all Austin Air air cleaners, they have an all-metal construction and a powder coat finish.